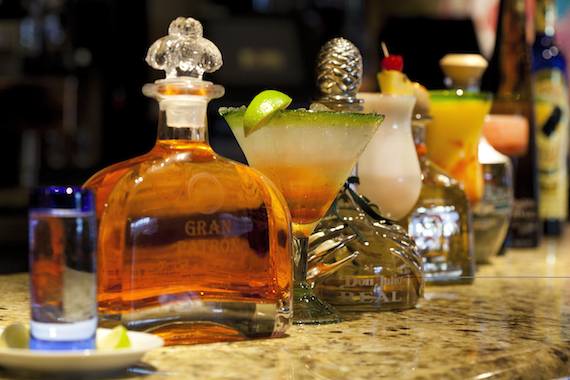 We like to talk about fun, light-hearted "holidays" a lot and how to celebrate them, but today is different. Today is a hardcore, real life, major holiday: it's National Tequila Day. Tequila is one of the most important types of booze you'll find in a person's liquor cabinet and there is no doubt that it deserves its own special day on the calendar.
Tequila has really grown as a liquor in the past few years and it's turning into a true craft spirit experience rather than "one tequila, two tequila, three tequila, floor," experience. There are quite a few bars around the country that appreciate and acknowledge the amazing tequila options that are out there right now and their cocktail menus definitely reflect that. Here are three tequila bars to hit up on National Tequila Day:
400 Rabbits – Austin, Texas
400 Rabbits may seem like a weird name for a bar, but it makes sense. The name is derived from the Aztec goddess Mayahuel, the divine personification of the agave plant. Apparently she gave birth to 400 rabbits, which are said to be gods of intoxication due to their strict diet of tequila.
Okay, the story is still really weird, but it makes sense for a tequila bar, right?
400 Rabbits specializes in tequila and mezcal cocktails that definitely impress the most discerning drinkers. The bar is also adjacent to the awesome Alamo Drafthouse Slaughter Lane movie theater, so have a few drinks and catch a showing (there is a Pitch Perfect sing-along happening there tonight at 7:25, which is probably the most fun a person could have after a few cocktails).
Rita's Tequila House – New Orleans, LA
If you love drinking, you really can't go wrong in New Orleans – so is it any surprise that you'll find one of the best tequila bars there? Rita's Tequila House has over 135 different tequilas and a menu filled with fresh Mexican food to help round out the experience. Located in the French Quarter, they are the only accredited tequila house in Louisiana and one of four Certified Tequila Houses in the United States. Try their legendary "Ghost Shot" challenge – drink a shot of tequila that has been spiked with the world's hottest chili pepper (400x hotter than a Jabanero pepper) and get a free t-shirt, your photo displayed in the bar, and mad props on their website and social media sites. Oh, and full bragging rights, of course.
La Biblioteca – Denver, CO
La Biblioteca wins for having one of the most impressive selections of tequila, mezcal, and agave spirits in the whole country; over 350, to be exact. The bottles line the walls and are all organized into categories to go along with the library theme. The tequilas are aged anywhere from seven days to 25 years, so there's plenty to choose from.
The most awesome part of this bar, however, are the "library lockers." Private lockers are available so you can store your personal bottle of tequila (or another spirit); the bottle is labeled, dated, and kept under lock and key. Whenever you know you're coming into the bar, just call ahead and they will make sure your bottle is waiting for you. Reserving a locker is $50/6 months, but imagine how much you could impress a date or friends with your exclusive bottle of tequila.
No matter where you go to celebrate, make sure they have a bottle of tequila, limes and salt.